20 Minute Loop
é de São Francisco e foi formada em 1999 quando Chris Manning (produtor do Jellyfish, Metallica, Third Eye Blind) se uniu a tecladista Kelly Atkins e ao guitarrista Greg Giles. Na atual formação se inclui o guitarrista Joe Ostrowski, baixista Nils Erickson, e o baterista Ethan Turner. Já foram comparados com bandas diversas como XTC, The Pixies e X. Poderia definir 20 Minute Loop como um refrescante quebrar cansado de fórmulas; então, confira 20 Minute Loop.
20 MINUTE LOOP (1999)

1. She Hated Dogs
2. Everybody Out
3. Face Like a Horse
4. Aeroflot
5. Up on the Hill
6. Disconnect
7. You Know So Much
8. Bunnyman and Chickengirl
9. Hookworm
10.All My Friends


DOWNLOAD:
20 minute loop.rapidshare
DECLINE OF DAY (2001
)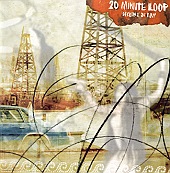 1. Jubilation

2. Moses

3. All Manner

4. Daughter's Down

5. Pilot Light

6. Force of Habit
7. Mechanical Angels

8. Elephant

9. Mompha Termina

10. Vaccine

11. Hell in a Handbasket
12.
Aquarium

DOWNLOAD:
decline of day.rapidshare
YAWN + HOUSE = EXPLOSION (2005)

1. Parking Lot
2. Cora May
3. Properties Of Dirt
4. Miriam Hopkins
5. Book Of J

6. Carlos The Jackal
7. Ambassadors

8. It's Time To Honor Ghouls
9. 5 AM To 9 AM

10. Our William Tell

11. I'll Never Forget You

DOWNLOAD:
yawn + house = explosion.rapidshare
Password
: MOODSWINGSmusic